Rent a Bus for Your Team in Toronto
Toronto sporting events are some of the most popular in Canada, with competitions frequently drawing tens of thousands of attendees at a time. As a fan, athlete, or coach, you may have had some issues in the past with getting to and from sports activities, but those struggles are over. GOGO Charters's industry-leading transportation solutions will get you where you want to go, quickly and efficiently.
Booking with GOGO Charters is beyond simple. When you call us, a reservation specialist works solely with you to tailor your traveling experience to your needs. Our support staff is available 24/7, and we frequently book your trip in 2 hours or less. If you're looking for transportation from Toronto to any of the other cities we service, GOGO Charters is the perfect resource. Call GOGO Charters today at 844-233-2240 to book a coach for your next sporting event.
CALL 844-233-2240 FOR CORPORATE BUS RENTALS IN TORONTO
Teams Stick Together
Sports teams seeking effective transportation to and from their matches love working with GOGO Charters, because we work hard to keep you unified with our access to a wide variety of travel solutions. We're able to keep your entire roster together by booking charter buses or several minibuses that can accommodate any number of athletes. Once you know how many teammates you'll be transporting, you're then able to request amenities that will make their journey more enjoyable, including air conditioning, flat screen TVs, lavatories, DVD players, WiFi, and more. You can even transport your team's equipment by requesting storage bins for all of your players and coaching staff.
Association Football Transportation Made Easy
Toronto's football teams love the range of GOGO Charters's services. Athletes and staff members alike find our attention to detail and wide array of transportation solutions satisfactory. No matter how many team members, staff members, or guests you're travelling with, we always make sure your bus is able to accommodate your entire group, and the amenities you're able to request will further increase the enjoyment of your trip.
Minibuses are the preferred solution for most football teams. GOGO Charters reserves 18-25 passenger coaches perfectly suited for your players. And a number of professional teams that frequently take long road trips enjoy the spacious, stylish accommodations a charter bus or minibus provides.
Ride to Hockey Matches in Style
Ice hockey is extremely popular in Toronto, and the number of organized hockey teams throughout the city is highly representative of that. The dozens of amateur and semi-pro teams competing throughout the season need reliable transportation providers to transport them to and from games. Move past school buses, public transportation and ride alternatives, and contact GOGO Charters to learn more about our gametime transportation services.
GOGO Charters provides the comfort and safety of a local charter bus company, with the customer service and support of a major operation. Player and staff safety are always our top priorities, and we look after you from the start of your journey to its end.
If your team is seeking entertainment and comfort during your ride, request amenities such as as WiFi, power outlets and DVD players to sweeten the experience. Pack team equipment and uniforms by requesting luggage bins, and make sure everyone is comfortable by asking for added legroom for every seat.
Cheer for the Home Teams
Toronto is home to a number of professional, amateur, and semipro sports teams No matter which ones you love, it's your duty to support them to the best of your ability. Instead of relying on rideshares, public transportation, or anyone else to facilitate your journey, choose GOGO Charters as your transportation provider to get you there.
Fans riding with GOGO Charters get the ultimate riding experience. When you reserve a coach with us, you have the option request amenities that make your journey more enjoyable. If you're a match that's a long distance from home, your reservation specialist will work with your assigned driver to choose the route that is most efficient for you. Support your Raptors, Maple Leafs, Blue Jays, and any other teams you love by booking with GOGO Charters.
RONA MS Bike Tours
If you like to get out and get active, GOGO Charters can help with that too. Cyclists interested in participating in the RONA MS Bike Tours can reserve a charter or minibus to transport the entire group as a unit. If you request storage bins, you and your friends can pack your bicycles on board and take them to any biking trail that you choose.
Riding with GOGO Charters allows you to keep your entire group together. Minibuses may seat 18-25 passengers, while larger cycling groups can request charter buses that seat up to 56 people. If you need amenities such as added legroom, lavatories, and storage bins for longer distance trips, don't hesitate to request them when you call your reservation specialist.
Choose the Most Reliable Bus Rental Company in Toronto
GOGO Charters has access to industry-leading coaches, professional drivers, and high-quality amenities. We're dedicated to making sure your experience is one to remember, no matter what.
If you're interested in learning more about our transportation services for sports teams, corporate events, private events, weddings, and more, call us now at 844-233-2240.
You may have seen us featured in: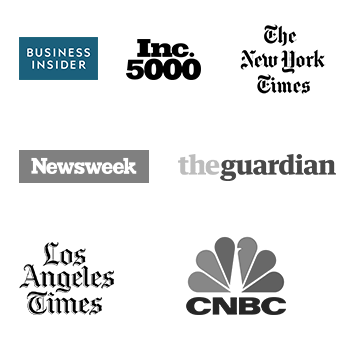 Calculate Rates
from Toronto, Ontario
Last Minute
Prices
GOGO Charters Toronto

1 Yonge Street, #1801, Toronto, Ontario M5E 1W7

(416) 628-1520
Helpful Bus
Rental Resources