Rent a Bus for Your Private Event in Toronto
Let GOGO Charters simplify transportation to your next group trip in Toronto. Chartering a wide variety of bus types, from 18-passenger minibuses to 56-passenger full-size coaches, we're sure to find one that's perfect for your group. Our dedicated reservation specialists are available 24/7 at 844-233-2240 to answer questions and help you book your bus today!
CALL 844-233-2240 FOR YOUR PRIVATE BUS IN TORONTO
Book a bus to save money on airfare and still travel comfortably into Toronto. You can choose from amenities such as plush reclining seats, WiFi, televisions with DVD players, air conditioning, and more. You also won't have to worry about standing around at security checks or baggage claim. Your driver will pick you up from your designated starting location and transport you directly to your Toronto destination.
If you prefer to fly into Toronto, we'll be your personal airport transfer service. Don't rely on public transportation services or rideshare apps, which can operate on unpredictable schedules and separate your group. Book a private bus and enjoy personalized transportation that operates on your time. We'll pick you up and take you to hotels, restaurants, or any other local stop on your itinerary.
Once you've arrived in Toronto, we'll stay with you as your personal transportation service throughout your trip. Don't worry about deciphering public transit maps or bringing your own cars. Let a private bus from GOGO Charter get you everywhere you need to go.
Take a More Comfortable Field Trip
Instead of taking an old, uncomfortable school bus, rent a private coach with premium amenities such as plush seating, air conditioning, and WiFi. With plenty of room for you, your students, and your chaperones, everyone will enjoy a comfortable ride to your destination. Show a movie or an educational video on the bus with televisions and DVD players. When you arrive, your students will be rested and ready to learn.
Church Trips with a Charter Bus
Take a personal coach to your next mission trip, choir tour, convention, or other church get-together. Forget about asking for volunteer drivers and separating your group. With a private bus, everyone can stay together and socialize while your driver handles navigation. Rent a minibus for a cozy, intimate mobile meeting space where your group can socialize, study together, and fellowship on the way to your destination.
Let us take you to your next group retreat to a destination like Upper Canada Camp. Enjoy your time together on the bus while your driver handles the navigation. Play a few ice-breaker games and get to know each other on the way so you'll arrive ready to have a great weekend.
Family Reunion Travel Made Simple
Simplify transportation at your next family event with a private bus. No matter the size of your group, we'll find a bus that's perfect for you. Let us guide you around Toronto as you travel together to restaurants, parks, hotels, and all over venues on your itinerary. Wherever you go, you'll be in control.
Hop on your bus and take your family over to Centreville Theme Park. Your driver will transport you over as soon as you're ready to leave your hotel, and we'll be there to pick you up when you decide you're ready to call it a day.
The Best Bus Rentals in Toronto
GOGO Charters is your #1 choice for bus travel into, out of, and around Toronto. We've helped more than 1 million customers travel across 8 million kilometers with 0 accidents. Let us simplify your travel plans for weddings, corporate trips, sporting events, or other private outings. Call our reservation specialists any time at 844-233-2240 to book your bus today!
You may have seen us featured in: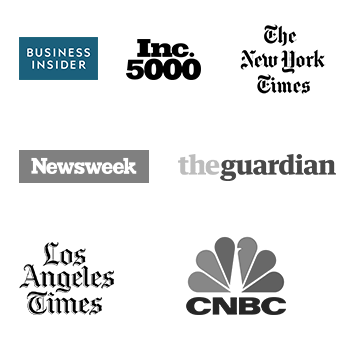 Calculate Rates
from Toronto, Ontario
Last Minute
Prices
GOGO Charters Toronto

1 Yonge Street, #1801, Toronto, Ontario M5E 1W7

(416) 628-1520
Helpful Bus
Rental Resources