Rent a Bus for Your Wedding in Toronto
With so many details that go into planning a wedding, it's easy to get overwhelmed and forget things, including transportation. GOGO Charters has logged over 8 million kilometers with 0 accidents and helped more than 1 million happy customers travel throughout Canada and the US. Trust us to streamline all your wedding transportation in and around Toronto with ease.
With a wide variety of buses that range from 18-passenger minibuses to full sized 56-passenger charter buses, we are prepared to accommodate groups of all sizes. You'll have access to a variety of premium amenities, such as plush reclining seats, air conditioning, WiFi, power outlets, and much more. Whether you're in need for transportation for an engagement party, bridal shower, bachelor or bachelorette party, or your wedding day, we'll make the process simple and efficient!
To speak to one of our experienced and dedicated reservation specialists, call us at 844-233-2240 today. You'll be provided with a fast and easy quote tailored to your needs.
CALL 844-233-2240 FOR WEDDING BUSES IN TORONTO
Streamline All Transportation for Your Guests
If you have a lot of out-of-town guests coming into Toronto for your wedding, provide a bus to transport them from their hometown. Your driver will help plan an efficient route to pick up guests in several cities along the way. No one will miss out on your big day when they get to avoid expensive airfare, missed or delayed flights, and driving long distances on their own. When it's time to go back home, their bus will drive them back safely.
If you have guests flying into Toronto Pearson, make their travel as stress-free as possible with a personal airport shuttle. Give your guests the chance to sit back and relax after a long flight. Their driver will transport them directly to their hotel, your rehearsal dinner, or any other location they want with ease.
On your wedding day, let GOGO Charters handle all the transportation for your guests. Keep guests together and on time with a bus that picks them up from their hotel and brings them directly to the event. Without the hassles of traffic, navigating on their own, and securing parking, your guests can completely enjoy your celebration without stressing over how they will arrive.
If your ceremony and reception are being held at different venues, guest transportation can become more complicated. For example, if your ceremony is at Palais Royale, but you're moving the reception to the Eglinton Grand, it may be difficult for guests to arrive to each one on time without getting lost.
Depending on guests to drive on their own, carpool, or use public transportation or rideshare apps may lead to late arrivals or guests not arriving to either venue at all. With a shuttle service, each guest will arrive to each venue without the stress of travelling on their own.
Easy Transportation for You and Your Wedding Party
On your wedding day, a minibus is the perfect solution to your transportation needs. Instead of driving on your own or renting a limo, which can have limited space, a minibus provides extra comfort and space for even the biggest wedding parties. Your driver will plan the most efficient route while you prepare for your big day ahead.
If your reception is being held at a different venue, don't wait until after the ceremony to celebrate. Instead, get the party going en route with a personal minibus. Your driver will transport you while you enjoy drinks, music, and games with your wedding party and new spouse.
Celebrate an Engagement Party with a Minibus
An engagement is a special time that calls for a big celebration with a minibus. Throw an elegant engagement party for the couple at a local restaurant like Rosewater, or opt for cocktails at a lounge like The Roof Lounge. Your driver will handle all the transportation and parking while you have a memorable night. With a bus, your whole group will be able to enjoy adult beverages and still return home safely.
Host a Bridal Shower Fit for a Princess
Your bride-to-be deserves the perfect bridal shower, and that includes a minibus! Your bride and guests can fully relax and enjoy the shower without worrying about driving on their own. Create your own party package at Her Majesty's Pleasure and prepare for a day of full-on pampering with cocktails, spa services, and catering. Your bus will have plenty of storage to transport the bride's gifts and goodies back home.
Ride by Minibus for your Bachelor or Bachelorette Party
Upgrade your transportation for your bachelor or bachelorette party with a spacious and modern minibus. Plan the perfect night out with an experienced driver that will follow your time-- not theirs. Go club hopping without a worry at some of Toronto's top clubs, like Pravda Vodka Bar and CUBE. There's no need to assign someone as the designated driver with your own minibus!
The Best Bus Rental Company in Toronto
It's easy to streamline all your transportation needs in Toronto and Canada with GOGO Charters. Since our start in 2013, we've been dedicated to providing extraordinary customer service and simplified charter bus bookings.
From corporate events, sports tournaments, private tours, weddings, and more, we help groups of any size get to where they need to be in the most efficient way. Call us at 1-855-826-6700 to speak to one of our experienced reservation specialists today!
You may have seen us featured in: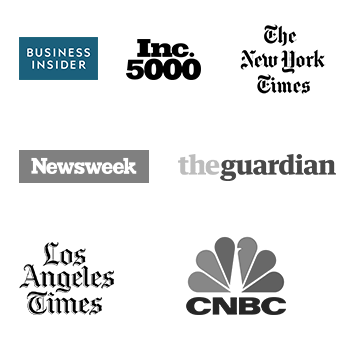 Calculate Rates
from Toronto, Ontario
Last Minute
Prices
GOGO Charters Toronto

1 Yonge Street, #1801, Toronto, Ontario M5E 1W7

(416) 628-1520
Helpful Bus
Rental Resources